Announcing our SOC-2 Type II Compliance
Defog is now SOC 2 Type II compliant, demonstrating our commitment to providing enterprise-grade security and privacy controls for our customers. This important milestone opens new possibilities for large enterprises looking to responsibly adopt AI models.
With SOC 2 compliance, our customers can trust that Defog has strong controls in place around security, availability, process integrity, confidentiality, and privacy. We recognize that these factors are critically important for organizations handling sensitive data or operating in highly regulated sectors.
This enables Defog to serve the needs of global enterprises with the most stringent requirements. We look forward to partnering with companies to leverage the tremendous potential of AI while maintaining the highest standards of ethics and responsibility.
Defog's zero-trust security architecture
Defog's privacy-first architecture means that we never get access to your data. Defog only has access to your metadata (tables names, column names, column types, and column descriptions) – and uses these to convert natural language questions into machine-executable queries. These queries are then executed on your infrastructure, ensuring that your data never leaves your servers.
This makes Defog ideal for industries like healthcare, finance and insurance, where privacy is of the essence. But we take privacy seriously beyond just our architecture. We have taken measures to ensure that your metadata is always secure, the code generated is never harmful, and you can add filters to address access issues.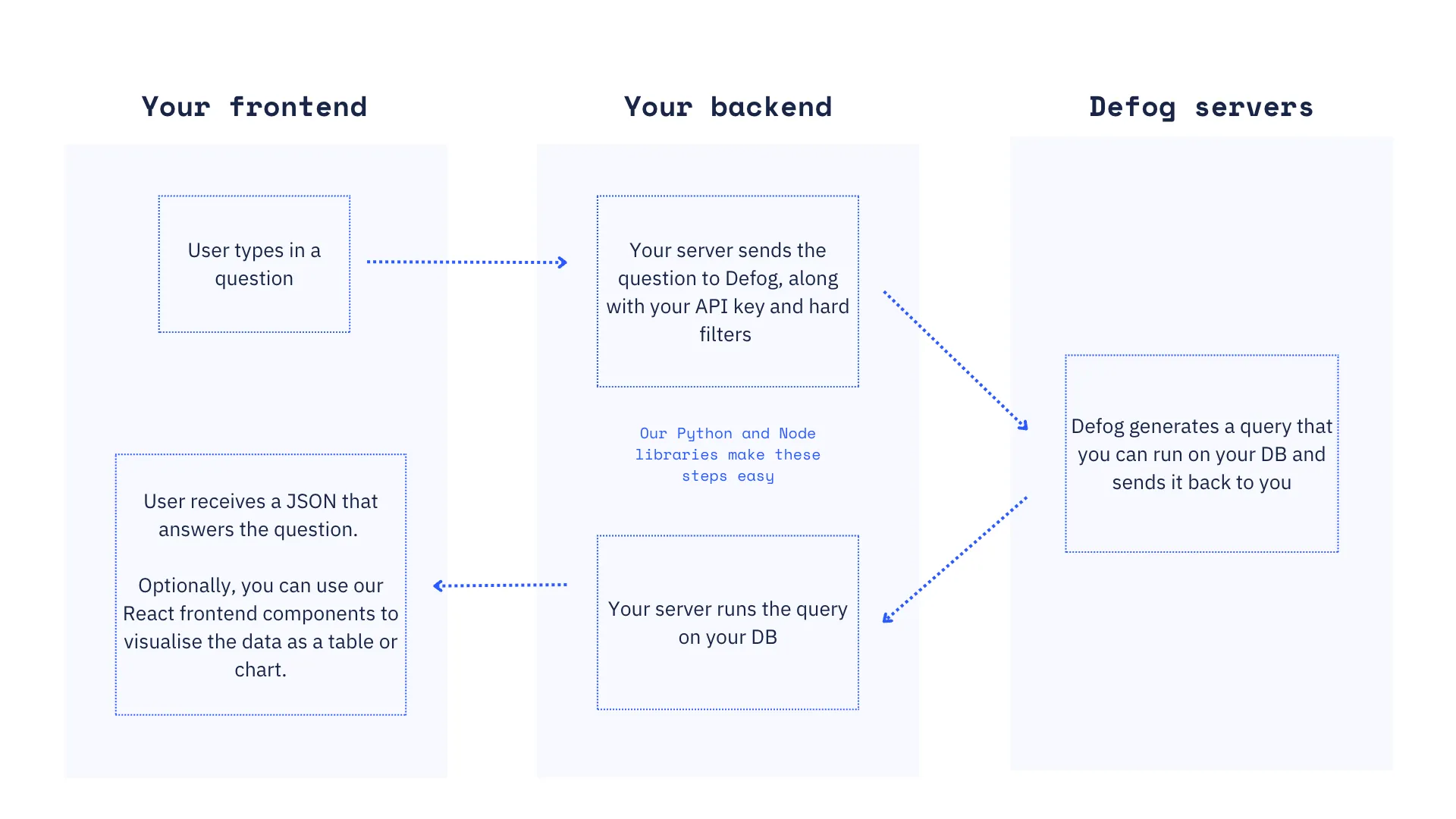 Open-core, battle-tested APIs for data analysis
Defog has an open-source core, and is one of the most popular open-source models for data analysis, with 25,000 lifetime downloads on Huggingface and 1,400+ stars on Github in just 6 weeks after release.
We have been deployed in large enterprises across finance, healthcare, and manufacturing – and are one of the few enterprise applications to have built accurate yet cost-effective large language models for data analysis.
Contact Us
If you would like to know more about Defog can help your enterprise do effective data analysis, do write in to us at [email protected] or book a demo!
About the author
Medha Basu is a co-founder of Defog. Before joining Defog, she helped large software enterprises reach governments in South-East Asia. Prior to that, she led field research to understand how technology can help the unbanked in Asia.
← More blogs