I'm excited to launch Defog's Pilot Program to let you try an AI data assistant in your app, without an investment in a full implementation.
Large language models (LLMs) like those powering ChatGPT and Defog have made it possible to have a conversational interface with software. Your users can get what they want by just asking a question. Our customers have used Defog to increase the frequency with which customer use their app, and to reduce support costs.
Perhaps you're excited by what's possible for your business but are not sure if your customers will find Defog useful. Or you have limited engineering resources to invest in a full integration at this time.
We created this Pilot Program so that you have the technology, expertise and resources you need to implement and evaluate an AI assistant for your customers.
What is Defog?
Defog lets your customers query data on your app in natural language. It translates users' questions into machine-readable queries that run on your infrastructure. We do this in a privacy-compliant way, ensuring your data never leaves your server.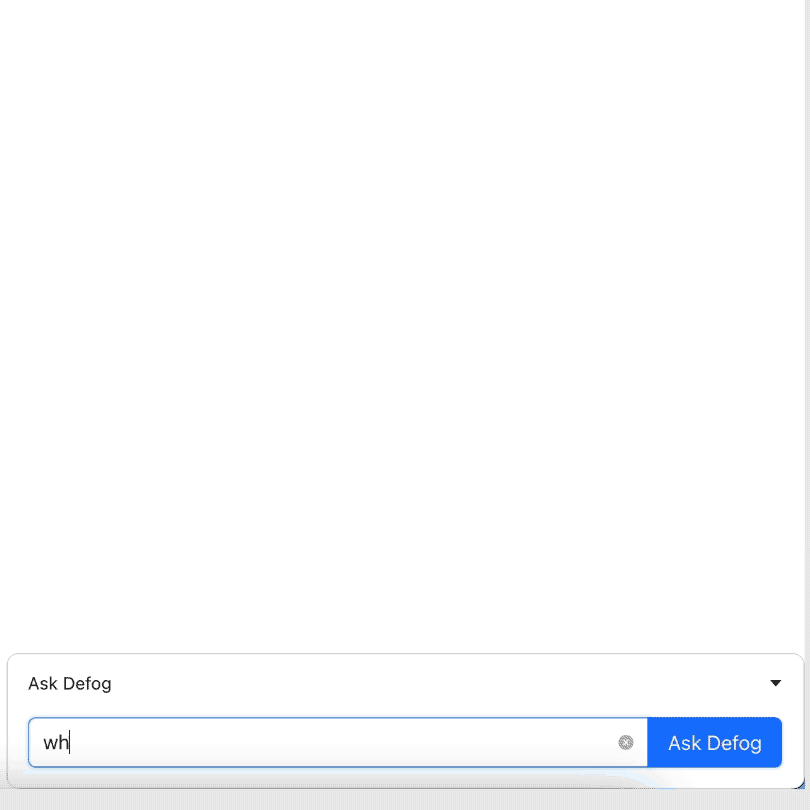 Why we created a pilot program
Many of you have asked us if you can try Defog without having to commit to a recurring plan. You're excited about what LLMs can do for your business, but it's a new area and you're unsure of how your customers will take to it and have limited resources to experiment. The market for AI products is changing every day and it's tricky to evaluate your options.
We get it! You want to dip your toes and test the waters before jumping in. We created this pilot program to help you do that. We work with you to define a well-defined use case to pilot Defog, implement and monitor its success, and share our expertise on LLMs to help you understand the strengths and weaknesses of AI products.
We are only taking on a limited number of pilot customers at a time (3 for June) to ensure we can work with each one of you closely.
Who is it for
The Pilot Program will be a good fit if you:
Are a first-time user of Defog
Want to evaluate a natural language interface for data, embedded in your app
Are unsure of whether your customers will find it useful
Have limited resources to experiment with LLMs
How it works
With the pilot program, you will be able to the following
Evaluate the impact of an AI data assistant for your business and customers
Partner with Defog to set success criteria, implement a pilot, understand usage and evaluate the pilot
Access technical expertise to understand the potential impact of the latest AI for your business and industry
Participate in 2x 1-hour consultations with the Defog founding team to understand LLMs, and strengths and weaknesses of AI assistants
Access over a decade of expertise in building and running AI-powered data products
Evaluate how your tech stack can be setup to take advantage of the latest evolution in AI
Run an 8-week pilot implementation of Defog in your app
Access Defog's API and front-end libraries to integrate with your database and app
For structured data (like database tables): Connect Defog with metadata from up to 10 tables from 1 database, with a total of up to 100 columns
For unstructured data (like text corpuses): Upload up to 100,000 words to Defog
Run up to 10,000 queries from your users
Get Defog support to fine-tune your database metadata
How much does it cost?
The Pilot Programme has a one-time fee of $900 inclusive of all of the above. This will enable you to run an 8-week pilot of Defog, evaluate its success, and understand the strengths and weaknesses of the latest AI technologies.
We have limited slots available for pilot customers. Get in touch with us at [email protected] to request a pilot.
How do I get started?
We will get on a 30-min call with you to identify a specific use-case for a pilot implementation, discuss success criteria for the project and agree on a timeline, as we have a limited number of slots available.
← More blogs